I feel very fortunate to be able to practice a profession that suits me so well. I enjoy the autonomy and collegiality of being a dentist in private practice. While technology has brought sweeping changes to the way medicine and dentistry are practiced, my vision is to meld the best in modern knowledge and technology with the timeless values of individual accountability to my patients. As years go by, I find my passion and enjoyment for my profession ever increasing.
A SOLID FOUNDATION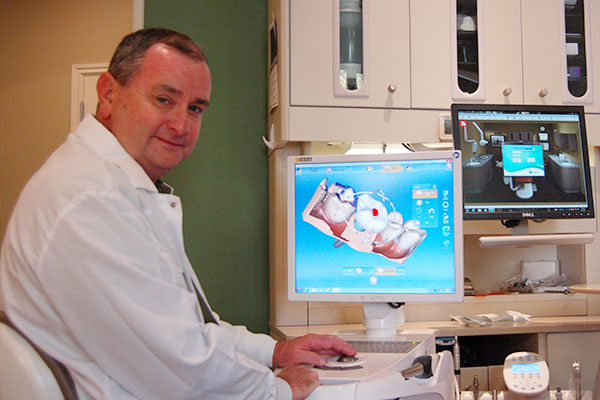 Having the knowledge and ability to improve another person's health and beauty is a sacred privilege, and I feel fortunate to be able to come to work every day and make a difference in peoples' lives. I have received an education that instills confidence in my patients. I attended the University of California, Davis, and graduated with a Bachelor of Science in Zoology in 1982. I continued on to the University of the Pacific School of Dentistry and received my Doctorate of Dental Surgery in 1985.
The practice of dentistry has changed so much since I became a dentist 30 years ago. New knowledge and new technologies have made dental care more predictable and comfortable than ever, and it is a central focus of my professional journey to learn and apply new ways to provide the very best experiences we can for our patients. I attend approximately 100 hours per year of continuing education courses, more than four times the minimum required by the state of California.
IN THE DENTAL COMMUNITY
In 1997, I earned the Fellowship Award in the Academy of General Dentistry, which recognizes doctors who keep an extraordinary commitment to updating their dental knowledge and is only attained by approximately ten percent of American dentists. I am also a member in good standing with the American Dental Association, the California Dental Association, and the Sacramento District Dental Society.
For many years, I served on the Peer Review Committee for our local component dental society. This experience taught me how much trust patients place in their dentists, and how crucial it is for a dentist to not compromise that trust.
OUTSIDE THE OFFICE
I reside in Granite Bay, about five minutes from the office, with my wife Linda and our two children, Jenny and John. I enjoy doing anything I can do with them, including skiing, hiking, boating, off-road motorcycles, and golf. I also enjoy building things and making things with my hands, so that means I can often be found woodworking, gardening, and my life-long hobby, building model trains.

American Dental Association (ADA)
The ADA is the professional association of dentists committed to the public's oral health, ethics, science and professional advancement.
---
Know Your Teeth

The Academy of General Dentistry (AGD) is proud to welcome you to KnowYourTeeth.com. It's the newest go-to resource that's been designed, first and foremost, to meet the needs of consumers who have questions and concerns about their dental care and oral health